When preparing to send out Christmas cards each year, many times people encounter someone on their card mailing list that seems to need something a bit more special or different from the card design you may have chosen. For instance, a simple holiday greeting of "Happy Holidays" featuring a snowman may not seem totally appropriate for religious clergy, pastors, priests, or ministers. Granted there is nothing wrong with the sentiment, but these are people who deeply understand the true meaning of the Christian holiday of Christmas and who would appreciate a card that represents that meaning.
When choosing Christmas cards for pastors, priests, or other religious figures, if you already happen to be sending cards that feature a Bible verse, or depict a religious scene, these cards would be completely appropriate to send to them. Card themes might include ones that depict the baby Jesus and the nativity scene, or that feature angels or the Star of Bethlehem. Even if no particularly religious image appears on the card, if there is a Biblical verse, or a specific phrase that directly relates the to holiday of Christmas, those would also be appropriate to give.
The DaySpring company offers a box of assorted Christian Christmas greeting cards that are perfect for pastors, priests, or anyone else on your card list who is of the Christian faith. Each card is printed with a scripture from the Bible, and depicts a religious scene such as the three wise men following the bright Star of Bethlehem to guide them to the newborn baby Jesus. Other scenes feature Mary and Joseph kneeling at the manger watching over the newborn King in the stable. These are beautiful cards that beautifully represent what the real meaning of Christmas is all about, and any religious leader would be delighted to receive one.
In addition to the box of assorted Christian themed cards, DaySpring also offers box sets of cards all featuring the same design. These include the "She Will Give Birth" box set that quotes Biblical scripture from Matthew 1:21, which tells of the Virgin Mary's destiny to give birth to the Savior. The "Love So Amazing" boxed card set depicts white outlines of the shepherds in their fields with their flocks against a blue night time sky, being told by the angel about the birth of Jesus. There is also the "Jesus" box set of cards , which features a modern poem written about the birth of Jesus, truly keeping with the spirit of Christmas. Any of these selections would be fitting for anyone associated with the church.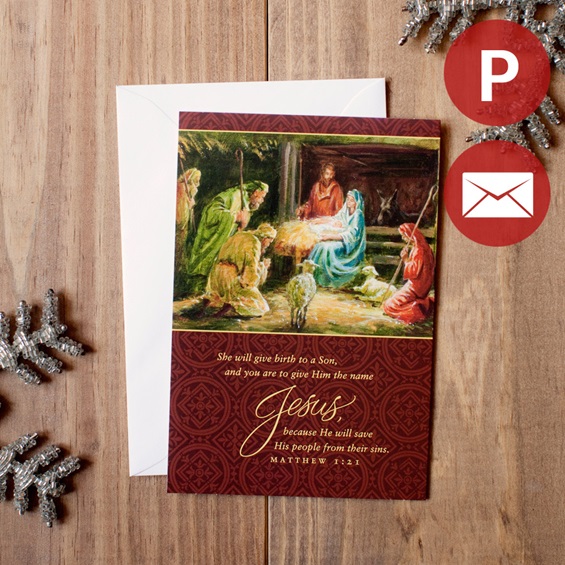 She Will Give Birth to a Son Boxed Cards

If you still desire to send a Christian themed Christmas card that is specifically suited for pastors, priests, etc., The Printery House actually makes cards specifically designed for pastors and priests. Such cards include the title of pastor or priest in the greeting, for example "A blessed Christmas to a wonderful pastor", or "Christmas blessings to a fine priest". These cards may be purchased individually , or in packages of five cards and envelopes. Cards may feature a religious image, Biblical verse, and/or message that includes some reference to the true meaning of Christmas.
Christmas cards for pastors and other clergy members can be a little tricky, but in reality, almost anything with a religious theme will work. Try to avoid "generic" type greeting such as "Happy Holidays" or "Season's Greetings", and at least choose a card that has the word Christmas in it. If you happen to have no access to any other card besides these rather non-religious ones, you could always hand write a sentiment that includes something religious in it inside the card. As long as you keep the "Christ" in Christmas and this is somehow represented in your card, it should be acceptable to send to your pastor, priest, minister, or other religious clergy.
(Visited 617 times, 1 visits today)