Collectible music boxes make lovely gifts for children or adults who love music. It gives them the opportunity to play their favorite song over and over. Each of these music boxes is delicately crafted with care to provide delight for years to come. Great gifts for children and adults alike. They will be cherished for years to come.
Kikkerland You Are My Sunshine Crank Music Box
Ballerina Treasure Music Box
Personalizable Music Box, "You Are My Sunshine", Laser Engraved
Lenox Childhood Memories Ballerina Jewelry Box
Enchantmints Ballet Heart Shape Music Box
Anastasia – Alexandra & Nicholas – Hinged Trinket Box
Butterflies Music Box
Musical Sewing Machine Music Box Vintage Look
Helen Zora 18 note Acrylic Clear Gold Hand Cranked Gurdy Music Box
5″ Nutcracker Dancing Ballerina Christmas Music Box Figurine
Enchantmints Unicorn Music Box
Keepsake Music Box Playing Fur Elise, Antique Gold
Disney Fairies Wendy's Music Box
Clockwork Mechanism 3-horse Carousel Music Box Melody Carrying You from Castle in the Sky
JewelKeeper Girl's Musical Jewelry Storage Box with Twirling Fairy
Ballerina Music Box for Girls – Dancing Musical Jewelry Box
Tin Music Boxes Toy (each item sold separately)
Clockwork Music Box Tune Is Castle in the Sky Music Box
Monarchs Music Box
You are My Sunshine Cottage Garden Rich Walnut Finish Jewelry Music Box
Special World Woodgrain Music Box Plays Wonderful World
Mini Handcrank Music Box Tune of Fur Elise(Butterfly)
Fding Classical Gramaphone Music Box
Kikkerland Make Your Own Music Box Kit
Laxury Creative Engraved Wooden 18-note Wind-up Musical Fur Elise
Ballerina Wind Up Musical Jewelry Box
Inspirational Italian Style Burlwood Finish Jewel Lid Musical Jewelry Box – Plays Edelweiss
24K Gold Plated Wind Up Music Box with Crystal Studded Grand Piano
Girls Music Jewelry Box Turquoise Wooden Case with Ballerina
Guardian Angel In The Garden Burlwood Music Jewelry Box Plays Amazing Grace
Honey Gifts Laxury Carousel Music Box
Mechanical Classical Ballerina Girl Dancing on the Piano Music Box
Disney Frozen Do You Want to Build a Snowman Jewelry Box Toy
Windup Music Box Melody Always with Me from Spirited Away
HERSHEY'S KISSES Granddaughter Music Box: Dear Granddaughter
Carousel Music Box,4-Horses
Carousel Music Box, Happy Pony Design,Pink
Carousel Music Box, Romantic Park Design,Blue
Willow Tree Happiness Musical
Thomas Kinkade Holiday Reflections Crystal Music Box
With care, many music boxes will last for many years and bring back lovely memories when you look back on when you got them.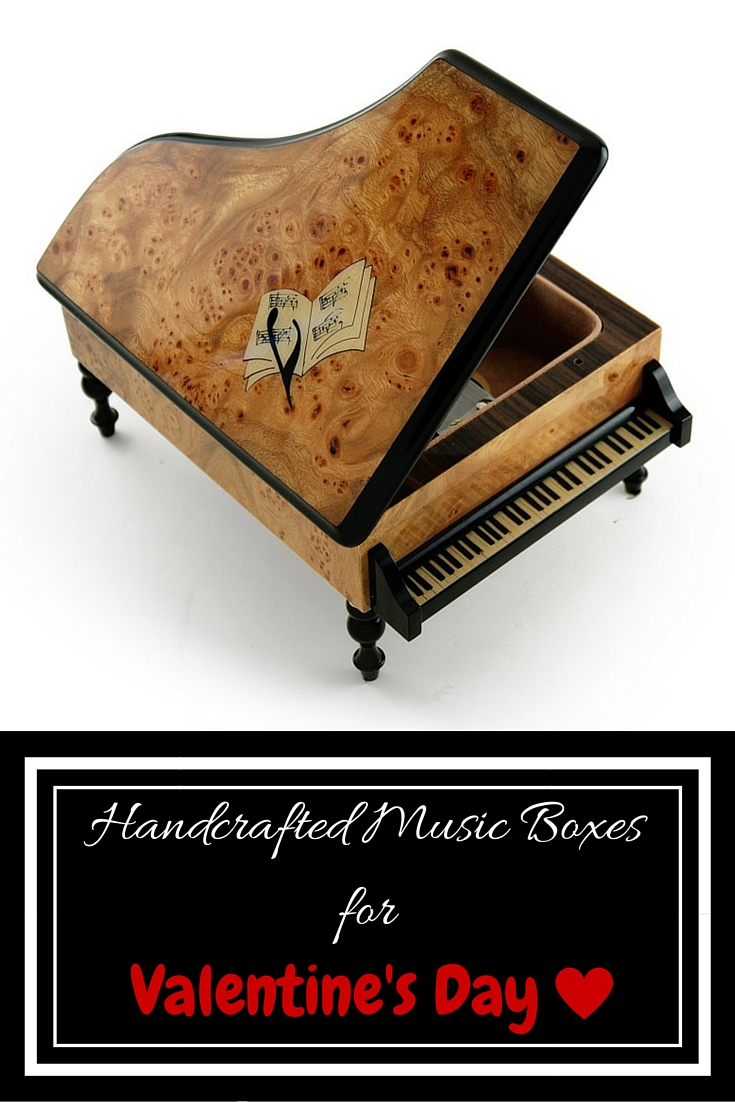 (Visited 844 times, 1 visits today)